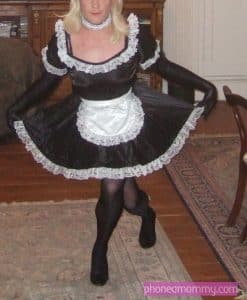 Sissy Judith stood still in front of Aunt Brenda, meekly submitting to her actions as she circled around Judith, fluffing up her hair, adjusting her French maid dress and checking the handcuffs to make sure they weren't too tight behind her back. Aunt Brenda stopped in front of Judith, leaned down to smooth a few wrinkles in the sissy's thigh high stockings, then nodded in approval. "Follow me, dear, we need to go greet our guests." Judith did exactly that, her high heels clicking against the hardwood floor as they made their way to the living room, the soft sounds of conversation and laughter reaching her ears as they got closer.  She tried to slow her breathing down, tried to ease some of her tension, but she couldn't get past the feel of her little clittie bouncing between the panels of her skirt, the ends of the lacy ribbon that Aunt Brenda had tied around it sliding against her balls.
Then they were walking through the doorway and Judith looked down with a red blush, the humiliation of all the ladies turning around to stare too much for her.  She walked behind Aunt Brenda to the bar over to the side and waited there patiently while she started mixing drinks for any of her friends that wanted one. The tray around Judith's neck was just right for one drink at a time, so she sashayed from the bar to one lady after another, carefully watching her posture so she wouldn't stumble and spill even a tiny bit of the drinks. She was making enough of a mess anyways, her clittie hard and leaking, droplets of cum falling to the floor, little bits of creamy whiteness scattered all over the floor. Once the last drink was delivered, Aunt Brenda waggled her finger over the mess, tutting over it. "Just what are you going to do about this, Sissy Judith? You can't have a mess like this, what kind of sissy maid would you be?" That's when everyone started throwing out suggestions, but the favorite was for her to clean it up with her tongue.
Aunt Brenda unlocked the handcuffs and lifted the tray from around her neck, and with a smirk told her to get down on all fours. Judith did just that, but instead of telling her to lick up the mess she'd made, Aunt Brenda told her to make herself come in front of everyone! After all, what would be the point since she would still be dripping everywhere otherwise? Judith pressed her fingers against the tip of her clittie and circled them the way a good girl should. Between the embarrassment and the low laughs from everyone watching it wasn't long at all before she was jerking and coming, making a new little puddle for her to clean up. Aunt Brenda gave her a kiss on the cheek, telling her what a pretty show she put on… and that it was time to start cleaning. So, she did just that, crawling around to bend at her elbows, ass tilted up, to lick every drop of cum up. She was humiliated, sissified and loving every bit of it!
Aunt Brenda
1-888-430-2010
Click Here to chat with a phone sex mommy!
#sissy #sissymaid #sissified #humiliation #femdom