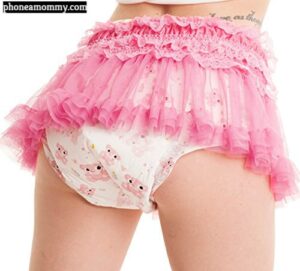 never new that this would happen, i lefted for work one day came back in for i forgot something and i found my husband  on the ground in front of the couch watching cartoons and dressed in just a diaper. i was so shocked and he was to for me finding him like that. i ask him what he was doing and he said well baby i know we have been trying to work on a baby for girl for the longest now and now that we know it wont happen anytime soon i decided to be your adult baby girl  i honestly didnt know how to react for i was still shocked he was in a freaking diaper. later that night we had a disscussion and he let me know that he has a fetish of being someone adult baby dressing acting and basically being a baby and he wanted me to really treat him like my adult girl so i did well at least tried.
i then went to my bottom draw and got my favorite tutu when i was a teenager and put it on him, and i always got one of my crop tops to put on him as well, so that his little belly will show and he can really feel like a whole baby a little slutty little baby for that is what im going to make him, i want him to be my baby but my little slutty baby, he agreed with it for babys do listen to thier mommies so he did and wanted to do exactly what i said for him to do i told him to do. so i had my baby girl lay down in bed i pulled his little clitty out and told him that we was about to do some ageplay roleplay , for mommy was horny and needed some of his little clitty, so i started rubbing on his little clitty through his diaper till it got hard for mommy then i pulled it out crouched right over his little clitty and guided it in mommies pussy, i rode it till my baby did cummies all inside mommie.
afterward i smelled this awful smell i thought was coming from the trash can it took me while to find it while my baby was laughing at me the whole time. it was her diaper she pooped and pee all in the diaper, and i was pretty mad for she let me look stupid for at least a whole hour till she stoped me and told me that it was her diaper. so while she was still in her poopy diaper, tutu, and the lil crop top i put on her , i decided to give my baby a diaper punishiment, take her out in public like walmart and embarass my baby with how awful the diaper smelled and how pitiful she looked in the baby slut out fit i picked out for her. there was a lot of laughter and teasing while we was out in public , i honestly think that my baby learned her lesson but if it ever happens again i did promise to go to a even worse public place to humilate her, maybe sea world or walt diseny where there is a bunch of kids.
1-888-430-2010
Click ABDL CHAT to chat with a Phone Sex Mommy